I feel like I mark the passing year by the candy Holidays!  So now we are on to the next!  
VALENTINES DAY!
We are already moving red, white and pink sweetheart candy fast! Looks like there is a lot of love in the air for 2015. Here is a glimpse at some of our best sellers….. 
Chocolate Conversation Hearts- not just hard candy anymore! Speak CHOCOLATE to your loved one: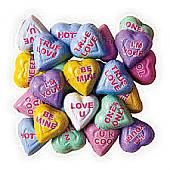 Hershey's Cupid Mix- Cupid has a mix all his own with favorites your Valentine will love:

Twizzlers Heart Shaped Nibs- If chocolate isn't your thing, heart-shaped licorice must be!

Twinkle Heart Pops- will surely get some attention! Instead of a flower bouquet, try a bouquet of these sweet lollipops:

Strawberry and Cream Heart Pops- Now if you are on a budget, and you are that room mom looking for treat for the classroom, these lollies are tasty and something you cannot find everywhere:
Don't forget to get your co-workers, grandparents and customers! Something sweet to show them you care! A little something sweet, and a lot of flair!
Happy Valentines Day! From Sweet Services!