Candy corn is one of America's past time favorite halloween candy and has been around for over a century, no other candy is like it and with it's creamy taste and relatively low calorie count it will remain the halloween favority for centuries to come.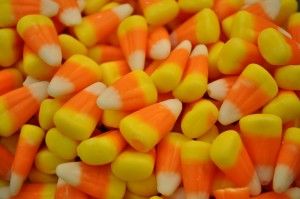 The inventor of candy corn is a gentleman named George Renninger, who was a candy maker in the Wunderle Candy Company which was based out of Philadelphia, PA. The yellow, orange and white candy first came into mass production by the Goelitz Confectionery Company and made them available to the pubic. In 2001, the company was renamed to "Jelly Belly Candy Company", a household name that many people are familiar with.
Candy corn is made from a mixture of sugar, corn syrup, fondant, vanilla, carnuba wax and marshmellow creme. The mixture is heated up and cooked to form a slurry and poured into shaped molds that resemble corn shape. During the pouring process, each color is applied and have attached a video on how candy corn is made:
Every Halloween trick or treaters harvest candy corn and other treats and the average money spent on Halloween per person is approximatly $80!
When it comes to candy corn, roughly 52% of people says it's just not Halloween with out it1 and the remaining people would rather just skip buying it.  Candy corn is ranked as the second most popular Halloween candy and contrary to popular belief, Chocolate is the most popular candy of Halloween with 78% preferring it over other candies.
Candy corn was initially called "Chicken Feed"
You can celebrate national candy corn day on October 30th
Candy corn is a low calorie fat free treat with roughly 140 calories per serving
The NCA (National Confectioners Association) estimates that 25 million lbs of candy corn are sold annually around the world.
There are a variety of ways to display your candy corn for people to consume including using a plain snack bowl with ribbons or a more creative approach making a candy corn on the cob. A candy corn on the cob uses candy corn and a cob made of cookie dough bananas or pure sugar found here: https://somethingaweek.wordpress.com/2011/10/15/82-candy-corn-on-the-cob/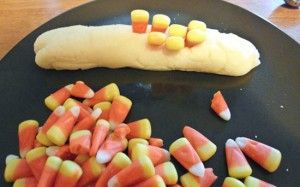 Sweet services offers candy corn in bulk and flat rate shipping and friendly customer service including candy corn products and variations with a huge variety to choose from.
Source: http://www.candyusa.com/AllAboutCandy/content.cfm?ItemNumber=5137