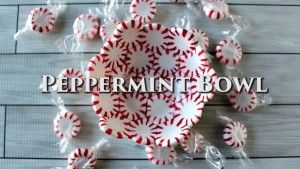 Peppermint candy is a refreshing treat that just about everyone enjoys any time of the year.
We discovered a fun and creative way to showcase all of your other candy with a DIY peppermint candy bowl.
They are relatively easy to make and will have your friends wondering how you ever made such a neat looking treat out of peppermint candies.
With Easter just around the corner, this fun craft is a great way to keep all of your leftover easter candy together.
There are a few things you will need to get started:
Parchment Paper / Heat Resistant Silicone Mat
Glass Bowl
You will need to place the peppermints on parchment paper in a circle to match the desired circumference of the peppermint candy bowl and place them in an oven at 300° for approximately 3-8 minutes. Place the peppermints over the glass bowl and begin to mold the peppermints to the bowl with your hands. Once the bowl is formed you can add your favorite candy treats and we added a small variation to the candy they placed in the bowl in the video with delicious Hershey Candy Cane Kisses.
We hope you enjoyed this fun peppermint candy craft project and please don't forget to share it with your friends.
Reference: Princess Pinky Girl