Looking for a quick and easy holiday treat that will entertain your guests? Chocolate covered candy canes are simple to put together and offer a delicious contrasting combination of mint and chocolate flavors.
What you will need:
Peppermint candy canes (plastic removed)
A cup of milk or semi-sweet chocolate
Black sixlets or Black sugar pearls
White jelly beans
5 Tablespoons of cream (optional)
The first step is to melt the chocolate chips with cream (optional) stirring over low heat to keep the chocolate from burning or clumping. Once the chocolate has no more lumps it is done and ready for the candy canes to be dipped. Prepare a baking sheet or celephane to be ready for the candy canes to cool over. Hold two candy canes at the curve at the top and dip them quickly into the chocolate and place them together on a baking sheet to cool. It is important to have the accessories eyes (white jelly beans) and nose (skittles), ready to place on the candy canes when the chocolate starts to harden.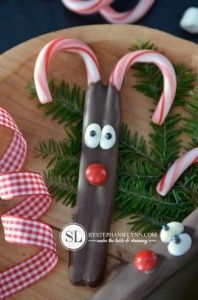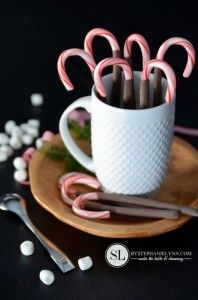 Once the candy canes are completely solidified, they are ready to be wrapped or placed in that hot cup of sweet chocolate for that perfect super easy holiday treat that the kids or guests will enjoy!
Source: http://www.bystephanielynn.com/2013/12/chocolate-covered-candy-canes-last-minute-holiday-ideas-meetsandralee.html